The timeless value of anti-tamper packaging in pharmaceutical serialization
It can seem outdated to talk about anti-tamper packaging in pharmaceutical serialization. After all, nowadays there are many other technological tools to help ensure that the medicines in our increasingly global supply chain are safe and untampered with. However, one thing that we must always keep in mind is that one should never forget the very basics of how something is done, even when newer methods become available.
This kind of packaging method has been used for decades to ensure that the medicines going into circulation do not end up in the wrong hands. Furthermore, its presence has served as a stamp of approval, ensuring that companies know a particular medicine has been manufactured and transported legally.
Likewise, this method of tamper prevention is not as outdated as you think. As you will soon see, some of the principles of anti-tamper packaging in the pharma industry are tightly connected with standard serialization practices and measures to increase overall supply chain health.
First, however, we have to discuss the importance of anti-tamper packaging for the practice of pharma serialization.
The importance of anti-tamper packaging in pharmaceutical serialization
This old-fashioned but more relevant than ever anti-tampering measure is important for several key reasons, many of which can be extrapolated to the importance of nurturing a healthy supply chain in general.
Pharmaceutical product counterfeiting poses a significant health risk to consumers and a significant financial loss to the pharmaceutical industry. The patient must be assured that pharmaceutical items are safe, which necessitates strict supervision over the product flow from manufacturing through distribution. Without supervision, it has been estimated that counterfeit products make up more than 90% of drug sales! As you can imagine, this is especially a problem in anonymous online purchases from shady vendors, but can happen in more regular settings too.
To this end, numerous laws and directives have been passed that require pharma companies to adhere to more strict packaging requirements. New labelling practices include properly tagging each level of packaging—from pallets to cartons—with the right serial code that is easily readable and universally recognizable. Sound familiar? This is the practice of pharmaceutical serialization itself! In a certain sense, we can say that properly conducted serialization is the ultimate form of anti-tamper packaging, but that is obviously still an oversimplification.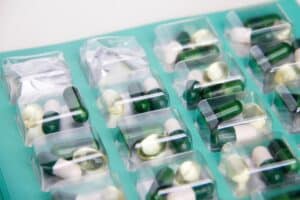 The two big directives for anti-tamper packaging in pharmaceutical serialization
Recently, we have had two great examples of regulation sets that have the objective of promoting this type of approach to packaging and creating a concerted dedication to combating counterfeiting. These have been the DCSCA and the EU FMD.
They emphasize, among other things, two main points: each pharmaceutical packaging item must have a unique serialized code and each packaging item must be safeguarded against unnoticed, premature opening or tampering with the aid of suitable tamper evidence systems. We can clearly see the interdependence of anti-tamper packaging and pharma serialization systems.
The art of anti-tamper packaging
Finally, we get to the section where we will directly address the kind of packaging that is designed to be tamper-proof.
To ensure the highest level of protection against tampering, a variety of sealing techniques are available to prevent packs from being opened and re-closed without leaving evidence. These include fiber-tear labels, which when opened cannot be replaced again, or foil "VOID" stickers, which when removed reveal previously hidden text or patterns. Transparent, self-adhesive sealing labels with perforations across the opening flaps of folding cartons have the advantage of not changing the pack design or obscuring necessary text or marks when used as a tamper evidence safety element. Additional security features on these kinds of anti-tamper packaging in pharmaceutical serialization include:
Hidden micro texts
Wood/QFX/Affirm/UV mask inks
Photo/Thermochromics inks
Pen reactive inks
Guilloche papers/printings and watermarked paper
But that is only one aspect of creating anti-temper packaging. Another important one is closely connected to serialization practices and includes properly labelling the packets with the appropriate information. Most regulatory bodies require at least the following:
A code that identifies the common name, formula, dosage, size as well as the type of packaging;
A randomized numeric or alphanumeric sequence of no more than 20 characters;
The lot number;
The expiry date.
Inkjet marking is currently the most popular solution among pharmaceutical businesses. However, businesses are increasingly choosing to use laser marking as a competitive advantage because of several benefits which include, but are not limited to:
Increased productivity
Better cost efficiency
Higher image quality
Low maintenance
This combination of using intelligent seal technology alongside ironclad labelling conventions has together proven to be quite effective in combating pharmaceutical counterfeiting, hence the strict regulations and looming deadlines.
The close connection between anti-tamper packaging and pharma serialization
If you are going to take one thing away from this article, then let it be how interconnected anti-tamper packaging and serialization really are. Although we have been talking about anti-tamper packaging in pharmaceutical serialization, neither of these two is a subset of the other, rather, it is their intelligent usage and combination which yields the best results in the pharma industry's lifelong battle with harmful production and unethical distribution of dangerous drugs. Since these counterfeit medicines are highly dangerous to consumers, deterrence against them is one step along the way to creating a truly patient-centric supply chain.
Here at Nubinno, we have dedicated ourselves to helping pharmaceutical companies grow and improve their operations, especially when it comes to things like serialization and track & trace systems. As such, we have gained a lot of experience in preventing the tampering of pharmaceutical products as well as creating overall supply chain health. For this reason, we highly encourage you to reach out to us if you need any help with some of the recommendations and practices you have seen here regarding anti-tamper packaging in pharmaceutical serialization. Alternatively, our services like Assessment and Accelerator can transform your business, through an appropriately tailored approach to every client.